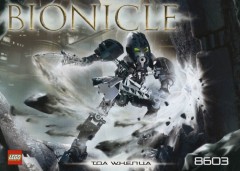 Related sets

Bricklist notes

An example of a Toa Metru Set.

Their body could support the same number of gears as the Toa Mata/Nuva, and it was even easier to choose if the figure would move its arms through gears or not, as there were three sections to place the technic axles (to connect body and pelvis), and then, to place a gear blocking the action of the other

The arms were placed through Technic axles in size 4 to the dual sides connectors. If there were balljoints to place in the top of those connectors, then we could have the best system for medium sized Technic-based buildable Action Figures ever.

Whenua was my choice to represent this series of canister as he was the smallest in size (but strongest looking) of them all. He also had the most different weapon. Two Earthshock drills, while connected in his hands, can make a bigger drill through a Technic angle connector between the hands. This bigger drill can fit very well in any Toa Metru-like figure.

The useability of some tools of those sets got influence from the Toa Nuva (just compare Nuju's Crystal Spikes to Kopaka Nuva's Ice blades: both of them are supposed to connect in the feet).

There are a lot of new and useful pieces in all the Toa Metru. Complete this collection worth indeed, as they can perfom the following Combiner models:
Kraawa (8902, 8903, 8906)
Kralhi (8901, 8904, 8905)

As I said in the summary of the list, the colors of those sets are usually darker tones (the only exception is Onewa's Dark Tan, that is more clear than the previously used brown color) which fits very well to their City environments.