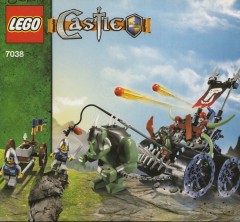 Bricklist notes

The Troll Assault Wagon is a mighty siege vehicle used by the Trolls against the Western Kingdom.

The Guardsman is the Close Combat unit of the King's army. The Guardsman has 1 strength, 350 life, 100 bricks, and 2 speed. In King Act 1, the Guardsman attempts to block a Skeleton charge by lowering a guard gate. In King Act 2, the Guardsman brings a bag of gold to buy an alliance with the Dwarves. In King Act 3, the Guardsman is among the Western Kingdom army. In King Final, numerous Guardsmen populate the castle hall.

The Giant Troll is a Special unit of the Wizard's army. The Giant Troll has 3 strength, 550 life, 500 bricks, and 3 speed. In Wizard Act 2, Troll Giants participate in a contest to see who can roar the loudest. In Wizard Act 3, Troll Giants are among the Wizard's army, and one Troll Giant accidentally knocks the head off of a Skeleton. In Wizard Final, the Wizard accidentally spawns a Giant Troll.