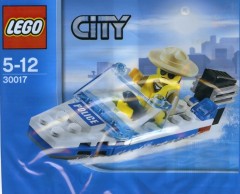 Notes

[US] Available from Walmart in March 2012.
[BE] Promotion with newspaper Het Laatste Nieuws, September 2012.
[NL] Promotion with Gamma stores, October 2012.
[UK] Free with The Sun newspaper, October 2012.
[ID] Available with Papermate pens.
[DE] Part of a Birthday Club promotion at Vedes.

Bricklist notes

For a polybag, this set is very impressive. The boat may be small, but the 'Police' sticker is nice considering stickers aren't usually included in polybags (even if they are a pain at times). The minifig itself makes this set worth it as it's one of the new forest policemen with a life jacket. Overall, the set is a very high-quality polybag for all you get out of it.