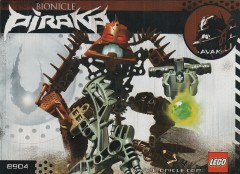 Related sets

Included in 66158-1

Bricklist notes

An example of a Piraka set. The Piraka were the first one to included brand new torsos with glued ball joints, beginning a new era and a new way to build figures. It was meant to follow the Bionicle concept, but the differences are huge.

They had no gear function; instead of this, they followed the idea of launchers from 2005, but bringing that time the Zamor spheres (used for GBC and in a lot of other playsets, also in the NXT 2.0), with buildable launchers.

They also had light-up eyes and glow-in-the-dark teeth, very attractive pieces. And they aren't proportional, like the Toa Hordika, they have longer right arms. Their weapons were dual sided and included a lot of details, buit were used few times in other sets that succeeded them.

The spines of the Piraka are very characteristic, though they were all exclusive, except for Thok's, that was included in golden for the Irnakk set.
The set I chosen to show is Avak, known as the last brown canister set, he is actually in a reddish shade of brown, while he includes dark tan connectors. Another set, Thok, has very light bluish gray limbs. Those are really good rare colors, but once they are the only ones to have those, in few variety, it doesn't becomes that useful.