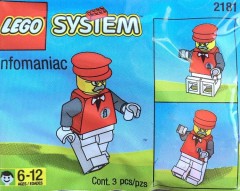 Pieces

4

Minifigs

Packaging

Polybag

Availability

Promotional

Set type

Normal
Notes

Included with the LEGO Island game CD-ROM in the US only.

Bricklist notes

The Infomaniac is a rare minifigure packaged with early copies of LEGO Island.

Serving as players' guide throughout the zany world of LEGO Island, the Infomaniac becomes a notable character from the moment players start the game, as four Infomaniacs play a game of leapfrog on the main menu screen. The Infomaniac resides in the Information Center, where he welcomes players to LEGO Island, tells them to sign in to the Big Blue Brick Book, and tells them to choose a character. The Infomaniac is always happy to provide hints and tips for players, and can be seen anytime by returning to the Information Center. When players play mini-games, the Infomaniac gives them instructions, and when players compete in races, the Infomaniac is there to reward players with a red, blue, or yellow brick when they finish. When players wish to leave LEGO Island, the Infomaniac asks them to confirm their choice by selecting a green brick to go or a red brick to stay, and if they select the green brick, he bids players goodbye.