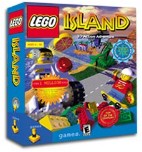 Bricklist notes

An instant classic, LEGO Island is LEGO's first videogame.

As a direct sequel to LEGO Island, LEGO Island 2: The Brickster's Revenge features the return of LEGO Island and many of its residents.

Pepper Roni, slightly older and with a redesigned outfit, returns as a playable character. He retains his ability to change hats and scenery, but now can also throw pizzas to disable Brickster-Bots.

Mama and Papa Brickolini return as NPCs. They reside at the Brickolini's Pizzeria, where they send Pepper Roni on a pizza delivery. Later on, they are kidnapped by the Brickster and brought to his own pizzeria at OGEL Island, where they work with Pepper Roni in the "Make-A-D-Pizza" minigame.

Nick and Laura Brick return as NPCs. They reside at the Command Post Central, and Pepper Roni must deliver a pizza to Nick Brick and receive some bricks from Laura Brick. Later, Nick Brick allows Pepper Roni to fly the police helicopter to Adventurers' Island.

Other NPCs return as LEGO Island citizens, and Pepper Roni must deliver pizzas to them. Nubby Stevens and Nancy Nubbins still work at the Octan Gas Station. Snap Lockitt, Red Greenbase, and Rhoda Hogg party all day at the party house. Valerie Stubbins hangs out at the Emergency Response Center. Dr. Clickitt still works at the Medical Center. Ed Mail delivers mail around the island, but often hangs out with M.P. Post at the Super 2 Store. D.J. Radio (seen in physical form for the first time) works at the L.E.G.O. Radio Station and helps Pepper defeat the Brickster-Bots.

While LEGO Island itself received a overhaul in LEGO Island 2, with slightly different geography and many buildings redesigned, the Information Center, one of LEGO Island's most iconic buildings, remains mostly the same in appearance, with very little differences in aesthetics. At the Information Center, players can view the LEGO Island map and see animations of all its civilians.