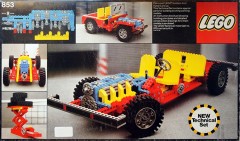 Pieces

601

Packaging

Box

Availability

Retail

Set type

Normal
Related sets

European version of 956-1

Bricklist notes

Features:

- Inline 4 Cylinder Engine with Moving Pistons
- Rack & Pinion Steering
- 2 Speed Gear Box
- Movable Seats

The first of what was to become a great legacy, the classic Car Chassis was introduced in 1977 as part of Lego's brand new Technic line. This model pre-dates many parts we now take for granted including the steering linkage and engine cylinder blocks--in this set, these components are pure, old-school Technic plates, axles, and bushings.

While it lacks a differential, this model remains a favorite of many, known for its easy customization and innovative use of the very limited parts selection of that period.