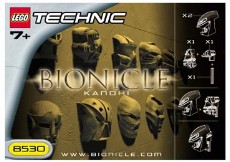 Notes

The final number of different masks is unknown. 73 types should come with this bag.

Related sets

European version of 8525-1

Bricklist notes

Seriously. No, I mean SERIOUSLY. This will be your core set. you would need a few masks of 2001 in alternate colours. You will need a noble rau (Turaga Nokama's mask) in the lighter green for Tamaru, the noble ruru (Turaga Whenua's mask) in red for Kapura, the noble komau (Turaga onewa's mask) in the lighter blue colour and optionally the great pakari (Toa onua's mask) in black for Taipu. Getting these masks may be a bit difficult now, since it's been discontinued for more than a decade. That's what's bricklink is for, i guess.