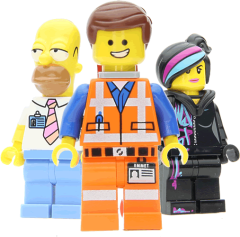 A new website called minifiguniverse.com has just been launched that uses a cool camera setup and software to create rotatable images of minifigs.
Site operator Richard says "When I saw just how much buzz was going around about the Simpsons LEGO set and the LEGO MOVIE sets, I decided to create a website 'Minifig Universe'.
"The idea of the site is to show off minifigs from current and recent LEGO themes, let people see them from all angles and decide if they want to purchase/collect them. It's a good way to create some buzz about upcoming themes and figs. It's not designed to be a complete reference for every minifig out there and it's intended to complement, not compete with existing resources out there.
"I just launched yesterday in beta/preview mode. At the moment, there's not as many collections of figs available as there will be, but I'm busy photographing more themes right now. I launched earlier than I would normally have done in order to show off the Simpsons and LEGO movie minifigs because those themes are very hot right now. "
Richard uses a Mindstorms NXT, custom software and a DSLR to generate the images. "Instead of doing it all manually, which would take way too long, I created a self-contained 'minifig photo booth' which is a computer with custom software I developed, an SLR camera and a Mindstorms NXT controlled turntable. The idea is I can clip a minifig on to the turntable, enter the item number and 2 minutes later, it spits out 400+ images (36 angles times 11 different sizes) and uploads them so they become available on the site. This page, with video, shows how this all works."
It's incredibly cool and in the next week or so I hope to be able to link in to the site from the minifig detail pages here at Brickset.
Sponsored content