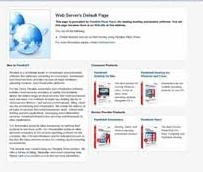 Yesterday and today in the early hours (GMT) the server stopped serving Brickset and instead showed the Parallels default page, right, due some sort of server configuration changing 'on its own'.
Clearly this is disappointing and frustrating particularly given I had hoped our problems would be behind us now we're on a new server.
I have raised this as a problem with WebFusion tech support who are investigating. I sincerely hope it doesn't happen again otherwise we'll be on the move again...

Sponsored content