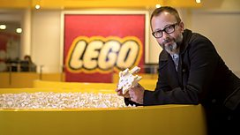 Tonight's Culture Show on BBC2 at 10pm is about the brick and its role in architecture.
The synopsis reads: "The Lego Movie (released 14 February) is the latest big-budget incarnation of one of the world's most popular toys. Yet Lego is more than a global brand. Tom Dyckhoff explores its fascinating relationship with architecture, and argues that it has changed the way we think about buildings.
"Lego's plastic yellow bricks were launched in the 50s, and resonated with new visions of rebuilding society - with ethical, imaginative children's play at its heart.
"Tom meets the artists and architects reared on Lego, who are using it to reimagine our cities today, from Bjarke Ingels, 39, the leading architect of his generation, to international artist Olafur Eliasson whose Collectivity project took three tonnes of Lego to the citizens of Tirana, Albania.
"But with Hollywood franchises and huge expansion, has Lego lost its original ethos of creativity and construction? Tom looks to Lego's successors and at how cult computer game Minecraft may be set to transform the cities of the future."
The world has seemingly gone LEGO-mad this week, it's popping up everywhere you look, isn't it...
Sponsored content