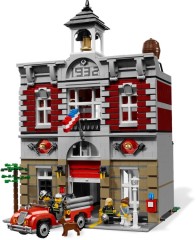 Though not as good as their advertised "25% Off Your Entire Purchase" sale, Amazon has indeed corrected their system and the sale is now basically "Buy One, Get One 50% Off of Select LEGO Sets." But seeing as how there are some great sets listed, many already at a discount, a few LEGO Direct sets offered, and free shipping on qualifying orders, this is a pretty awesome deal. Thanks again to Brickset member neoroark for the heads-up yesterday. There are some catches to the deal. The discount only applies once per order and to the cheapest applicable set, so be sure to buy two similarly priced sets.
To buy (and support Brickset), please click here and then manually add to your cart any 2 of the following 43 sets (or Qty 2 of one set where allowed). The discount will show up at checkout and prior to finalizing your order. Don't dilly dally as I'm not sure how long this deal will last...
UPDATE: Some of the individual set discounts are already disappearing but the BOGO50% still works. Better hurry!
10197 Fire Brigade
10198 Tantive IV, 8037 Anakin's Y-Wing, 8085 Freeco Speeder, 8036 Separatists Shuttle, 8087 Tie Defender, 8086 Droid Tri-Fighter
7569 Desert Attack, 7571 Fight for the Dagger, 7573 Battle of Alamut, 7572 Quest Against Time, 7570 The Ostrich Race
8061 Gateway of the Squid, 8075 Neptune Carrier, 8059 Seabed Scavenger, 8060 Typhoon Sub, 8057 Wreck Raider
7595 Army Men on Patrol, 7593 Buzz's Star Command Ship, 7789 Lotso's Dump Truck, 7597 Toy Story Train
4736 Freeing Dobby
8864 Desert of Destruction, 8899 Gator Swamp, 8190 Claw Catcher, 5983 Undercover Cruiser, 5982 Smash 'n' Grab, 8189 Magma Mech
5548 Building Fun, 8871 Power Functions Extension Wire, 8884 Power Functions IR RX, 8870 Power Functions Light, 5506 Duplo Building Set, 5497 Duplo Learning, 5507 Duplo Deluxe Brick Box, 8411 Ben 10 Chromastone, 8517 Ben 10 Humongousaur, 8211 Brick Street Getaway, 7136 Skrall, 7160 Hero Factory Drop Ship, 5549 Building Fun, 5893 Offroad Power
Sponsored content