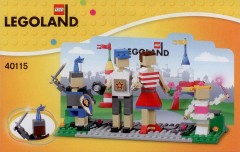 This morning's trawl of new instructions added at LEGO Customer Services has revealed this interesting LEGOLAND set which contains four miniland-scale people and a 'park entrance'.
I believe this is the first time that miniland people have appeared in a regular set, and it's about time too. When I first visited a LEGOLAND park (in 1996) one of the first things I wanted to do when I got home was to build some miniland people, from photos I'd taken. I'm sure I'm not alone so it's surprising that LEGO hasn't capitalised on this before now.
Look out for it at a LEGOLAND park near you soon.