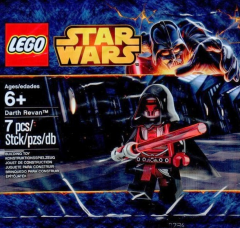 Tonik has sent me this image of a new Star Wars minifig polybag that's apparently available in the Czech Republic. Darth Revan "was a Human male who played pivotal roles as both Jedi and Sith in the Mandalorian Wars and the Jedi Civil War." says Wookiepedia.
Given the timing, it's possible that it'll be part of the May the Fourth promotion this year.
Update: Set number is 5002123 and it's now in the database. Here's the Czech shop from where it can be bought.