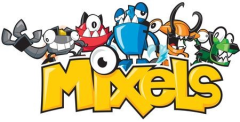 The fantastic standard and high number of entries has made the judging very difficult, but after much deliberation the panel of 6 judges has made their decision...
First place
So, in first place, winner of Benny's Spaceship, is Captain Flex by Nicolas Bossons:
The judges said:
I love Captain Flex because he has so much character and I like how the builder has incorporated "classic" recognisable pirate features like a peg leg and hat, whilst still retaining a mostly Mixel-like appearance -- LostInTranslation
Loaded with personality, love the hat ! -- DrDaveWatford
Arrr! Captain Flex is a real beauty of a model! -- Huw
Second place
In second place, winner of the Police Drop-Ship, is img_2086 by Sean Martin:
The judges said:
Wonderfully life-like creature beautifully photographed.-- Huw
Instantly recognisable, nicely posed and photographed, I particularly like the 'arms' ! -- DrDaveWatford
Remarkable to achieve such realism with limited parts. The front legs are a lovely shape with a nice little illegal technique used! -- Caperberry
Third place
In Third place, winner of Emmet's Construct-o-Mech, is Hudson by mmillers0001:
The judges said:
mmillers0001 submitted several entries to the competition. All were outstanding and most of them were on our shortlist. Hudson has such character, he almost looks cuddly although I suspect he bites! -- Huw
Unique, odd look that gives the creature a lot of character. Looks stable and posable -- Rocao
mmillers0001 has provided photo instructions for his submissions on flickr so you can have a go at building him yourself.
Joint third place
And, also in third place, also winner of a Emmet's Construct-o-Mech, because we couldn't decide between them, is Old Father Flex by theaface22:
The judges said:
Such an original concept, and for so few pieces the face is massively characterful. Really does look like an old man's face! -- Caperberry
Unique idea; simple, elegant execution -- Rocao
Unique design, and well realised given the restricted parts palette -- DrDaveWatford
Congratulations to our winners and commiserations to everyone else. Thank you all for entering. Let's do it again in September when Mixels series 3 hit the shelves!
Winners, please get in touch with your address (huw[at]brickset.com) so I can arrange to get your prizes delivered.