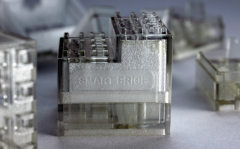 LEGO related projects are appearing on crowd-funding platform KickStarter with increasing frequency these days. It's a great way to seek funding to provide something niche to the hobby that LEGO would never do itself.
SmartBrick is one such project: "SmartBrick is the next level in remote controlling your LEGO. Build more, play more, like never before.
"This tiny brick of goodness works together with an application on a mobile or tablet, allowing you to do things you've never thought possible before. Connect it to your LEGO model, join our social platform, and experience a new way to have bigger and better fun with people just like you. Imagine the impossible, unleash your imagination, and make it real!"
What it boils down to, in plain English, is a Bluetooth receiver built into a brick that can control four Power Functions ports. Apps for mobile devices can then be used to control the model you've added it to, typically a Technic vehicle, remotely.
That sounds pretty exciting, doesn't it: a means of providing long-range remote control without needing Mindstorms and its associated bulk.
TechnicBricks has published a detailed technical article on the proposal if you want more information about how it will work.
Head on over to the project page at KickStarter and pledge your support.