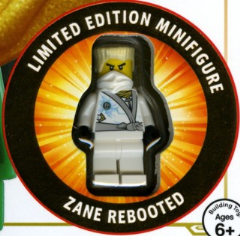 ...probably going to be a disappointment for Ninjago fans hoping for a new and exclusive minifig.
The book, due for publication in October, will come with 'Zane Rebooted' (BrickLink njo099) which also comes in 70726 Destructoid.
I am told that "Zane's robes are wrapped with a silver sash and feature an ice element symbol surrounded by pulsing ice energy. He also has his signature flat-top hairstyle on show."
As you can see from the picture, it's supplied assembled which is in contrast to those in recent DK books which are not.
I have a copy of the book (thanks DK UK) and will post a review as soon as I'm able to do so.