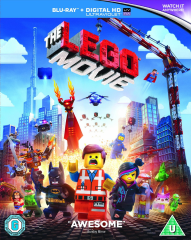 The LEGO Movie is released in the UK today. Three editions are available (DVD, Blu-Ray, Bly-Ray+3d) which can be ordered from Amazon.co.uk
.
There's no sign of the 'Everything is Awesome' edition, though. Some sites are speculating that it might turn up as a retailer exclusive somewhere but I would have thought they'd be advertising it pretty heavily by now if that was the case.
However a version with the Vitruvious minifig is available in Italy, and can be ordered from Amazon.it
for €16. Postage to the UK is €3.87 which makes the total, when paid in sterling, £16.
So, apart from USA, Canada and Italy, where else is a minifig edition available? Let us know if you can buy it in your country.
Update: It's also available in Denmark, Sweden, Norway, Belgium, Finland and Australia; see the comments for more information.
Sponsored content