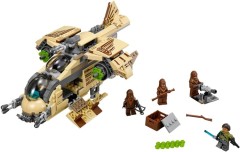 The news just keeps on coming...
MTV has revealed a new Star Wars set, based on the Rebels TV series, which will be on display at SDCC this week. The Wookiee Gunship contains 570-parts and will retail for $69.99 USD, available in stores from January 2015.
75084 Wookiee Gunship
Protect Wullffwarro and his Jedi friend, Kanan Jarrus, with the powerful LEGO Star Wars Wookiee Gunship. As featured in the Star Wars: Rebels animated TV series, this amazing battle-ready craft has loads of weapons to see off any invading force, like movable front cannons and an elevating top cannon. When the action really heats up, raise the wings into attack mode and unleash the never-before-seen rapid shooters! If you run low on ammo, open the side hatches to access the spare supply, then lower the rear bay door and unload the mobile gun post. Includes 4 minifigures with assorted weapons: Wullffwarro, Kanan Jarrus and 2 Wookiees.
Sponsored content