Yesterday evening LEGO hosted an event to mark the release of 21050 Architecture Studio in Europe at the brand store, Shepherd's Bush, London. Myself and a couple of other Brickset staff members went along to the press session at 6:30pm.
The session was hosted by Finn Williams, Urban Designer and founder of Common Office who spoke briefly about the design process and the basic principles of architecture. After that it was a free-for-all to build a structure using parts available in the set to add to the metropolis that had been built up during previous sessions. Unfortunately the building table was swarming with kids and all the best bits had been used in previous sessions :-)
It wasn't quite how I imagined it would be, but as always it was good to catch up with the Brickset team in real life. Afterwards we headed off for something to eat with Blocks magazine editor Mark to discuss our involvement in future issues so it wasn't a totally wasted journey.
Blocks editor Mark rummages for bricks in the pile...
Finn Williams and a shop assistant add the finishing touches to a skyscraper.
The Architecture Studio set, at £150, is expensive and it won't appeal to everyone. But there is definitely an audience out there for it. If you have a sizeable LEGO collection like me, I suspect you could piece it together from parts you already have so the only thing worth buying it for is the book, which looks to be good, but not £150 good.
If however you don't already have the parts, then it's a different matter. Most people's collections, if they've been buying regular LEGO sets, will be multi-coloured and full of specialist parts unsuitable for constructing buildings, so this set provides a easy and efficient way to be able to dabble in architectural models.
They were certainly shifting a lot of sets in the store yesterday so the high price was not putting people off. Parents seemed to be buying it for their budding architect kids after attending the session, which I guess is exactly what it's been designed for.
Here's the press release about the set:
--
Calling all architects and adult fans of LEGO!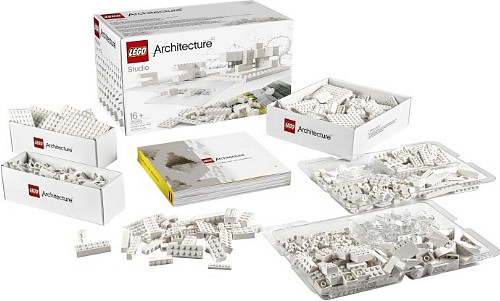 Do you have a passion for architecture and LEGO? Create your own designs with the new LEGO Architecture Studio set! Developed in collaboration with leading architects, and with over 1,200 monochromatic building pieces with an inspirational 250 page guidebook, the set allows you to turn your ideas into models, seeing your designs take shape before your very eyes! Anyone with an interest in architecture can now create their own LEGO original designs, as well as building mini architectural masterpieces such as the Eiffel Tower and the Trevi Fountain.
Exclusively available at LEGO Stores for £149.99 and from the official online shop www.LEGO.com/shop from August 1st 2014, the set consists of over 1,200 white and transparent LEGO bricks and a design guidebook full of tips, techniques, instructions and building exercises. It is endorsed by leading architectural firms including REX architecture, Sou Fujimoto Architects, SOM, MAD Architects, Tham & Videgård Arkitekter, and Safdie Architects
Background to LEGO Bricks & Architecture:
The history of current LEGO Architecture series can be traced back to the beginning of the 1960s when the LEGO brick's popularity was still steadily increasing. Godtfred Kirk Christiansen, the then owner of the company, began looking for ways to further expand the LEGO system, and asked his designers to come up with a set of new components that would add a new dimension to LEGO building.
Their answer was as simple as it was revolutionary: five elements that matched the existing bricks, but were only one third the height. These new building 'plates' made it possible to construct more detailed models than before.
This greater LEGO flexibility seemed to match the spirit of the age; where modernist architects were redefining how houses looked, and people were taking an active interest in the design of their dream home. It was from these trends that the LEGO 'Scale Model' line was born in early 1962.

The name itself was a direct link to the way architects and engineers worked, and it was hoped that they and others would build their projects 'to scale' in LEGO elements. As with LEGO Architecture today, the original sets were designed to be different from the normal brightly colored LEGO boxes, and also included An Architectural Book for inspiration.

Though the five elements remain an integral part of the LEGO building system today, the 'Scale Model' line was phased out in 1965–it would be over 40 years before its principles would be revived in the LEGO Architecture series we know today.
--
Order it today from shop.LEGO.com.
Sponsored content