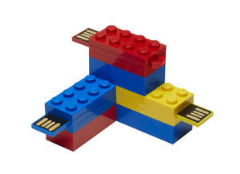 There have been numerous LEGO-brick shaped flash drives around for a while, now it seems you'll be able to buy officially licensed ones:
PNY Technologies, Inc. ("PNY") today announced a new brand licensing partnership with LEGO Group to produce LEGO branded USB Flash Drives. This new line of USB Flash Drives will launch in multiple colors in both 8GB and 16GB options. Read more.
Thanks RichLumb for the news.