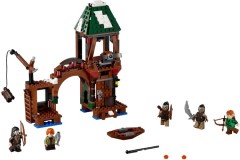 Flickr user mwheithoff has posted pictures of all four of this year's Hobbit sets acquired, I believe, from Toys R Us in the USA.
There was an embargo on posting images until the middle of October but, well, now they are in the wild, that's not really enforceable, is it. Whether they should be on the shelves already is another matter, one for LEGO to take up with TRU :)
Anyway, mwheithoff has done a reasonable job of photographing the boxes and their contents, including the minifigs, so check out his flickr gallery.
His photo of the minifig gallery from the back of the instructions is after the break...
Will you be buying them straight away at full price? If last year's Hobbit sets are anything to go by, these will not sell well at RRP and will be discounted by 20-30% by Easter, so I'll be hanging on for a decent discount before I take the plunge...
(via Lord of the Brick)