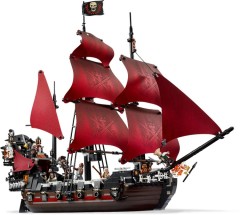 I've now built the four smallest PotC sets now so I thought I'd make a few observations about them. If you're still on the fence as to whether to buy them, maybe this will help :-)
- The packaging is excellent. As has been noted in various comments, the boxes are the new, smaller, type.
- The instructions and poster are packed in a plastic bag with a sheet of card to ensure they stay flat, even in the smallest sets.
- There are 27 unique minifigs, but it seems I was misled at the London toy fair: I was told that Jack Sparrow was different in every set, however according to BrickLink, there are just 4 variations, plus the one in 30132 which hasn't been added there yet. They are all excellent with many new accessories and headgear and are printed on the front and back of the torsoes.
- CapnRex101 has written some excellent reviews of two of the sets, and I've leveraged the new feature here to provide links to the pictorial Eurobricks reviews. You'll find them on the PotC theme page.
What do you think of them? Add your own review, or comment here.
Sponsored content