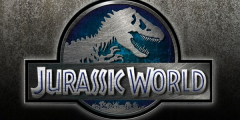 Yesterday, Universal announced that the LEGO group is a licensing partner for next year's Jurassic World movie:
UNIVERSAL PARTNERSHIPS & LICENSING BUILDS GLOBAL PARTNERSHIP WITH THE LEGO GROUP AS MAJOR TOY LICENSEE ON JURASSIC WORLD
LOS ANGELES, CA, Oct. 7, 2014—Universal Partnerships & Licensing (UP&L) today announced that The LEGO Group will create original LEGO products in conjunction with the release of Jurassic World, the long-awaited next installment in Steven Spielberg's groundbreaking film series that will be released on June 12, 2015. The LEGO Group's participation rounds out an overall branded toy campaign designed to bring the action, adventure and excitement of the film to audiences around the world alongside global master toy licensee Hasbro. The toys will be available in May 2015. The announcement was made by UP&L President Stephanie Sperber and Jill Wilfert, vice president of global licensing and entertainment for The LEGO Group.
"Jurassic Park defined dinosaurs for an entire generation 20 years ago, and Jurassic World will do the same in 2015," said Sperber. "Working with LEGO Group to bring this classic into the present in dynamic and exciting ways is truly thrilling."
"We are thrilled to be a part of the groundbreaking Jurassic Park series," said Wilfert. "The film's imagery and branding are iconic, with a rich array of landscapes, vehicles and dinosaurs that are perfect for inspiring a line of building sets that will encourage hours of creative play."
via LEGO-minifigures on tumblr.