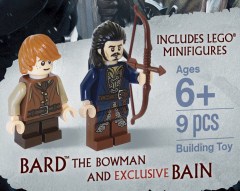 If, like me, you're Hobbit minifig complete you'll either be pleased or annoyed that there is still one more to get hold of despite the theme having ended.
A Blu-Ray edition of The Hobbit: Battle of Five Armies will be available with a regular Bard the Bowman minifig together with an exclusive version of Bain. In the USA it will be a Target exclusive. There's no word on availability outside the USA yet but I suspect it will turn up elsewhere, they usually do.
Thanks to richardwsales for the news.