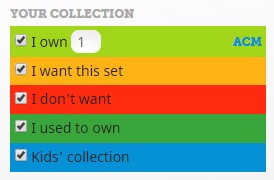 I've just added a new feature to the site in response to suggestions in the forum that I hope will be useful for many of you.
As well as the standard 'own' and 'want' checkboxes for sets you can now enable four others and label them as you see fit. You could use them to indicate, for example, sets you used to own, sets your kids own, or sets that the dog chewed the instructions for, and so on.
They won't appear and clutter up the interface unless you enable them. To do that, log in, click on your name top right to access your profile, then on Configure collection checkbox preferences in the menu. On that page you can give them labels and once you've done so they'll appear in the set listings and reports. You don't have to use them all, simply label the ones you want to use and leave the others blank.
There's still some minor tweaking to do but it's ready to use so I encourage you to do so and let me know what you think.