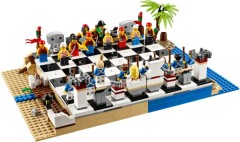 A hitherto unknown Pirates chess set has been found on Malaysian eBay by Chiew.
This 857-piece set will, of course, contain 32 playing pieces although it appears that not all of them are minifigs, the rooks for example.
Still, it will be a good way to stock up on Pirate minifigs. The auction price, 319 Rm, is about £58/$90, so expect the retail price to be around £40/$60.