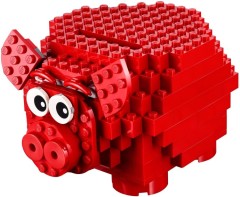 Aanchir is in Billund for the Inside Tour. He's been checking out the local shops and has uncovered several sets that were hitherto unknown to us: 40155 piggy bank, 40153 Birthday Cake, 40156 Friends organiser, and 41109 Friends Heartlake City Airport, which was not shown at the toy fairs earlier in the year so, presumably, will be a 'hard to find' set when it's released elsewhere in a month or so.
Obviously at this stage we don't know where else they will be available.
Update: images of the 40xxx sets have been found on LEGO.com so it's fair to assume they'll be sold at shop.LEGO.com in due course.