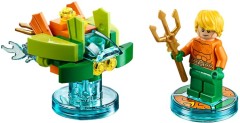 Seven more Dimensions packs have been announced, including Superman, Aquaman and Doc Brown.
This takes the number of known Dimensions sets to 37: 24 fun packs, 4 level packs, 4 team packs and five starter sets for different platforms.
According to BrickFanatics, who first posted this news, "additional well-known brands and expansion packs joining the adventure for 2015 and 2016 will be announced in the coming months."
One thing is already for sure, anyone who wants them all is going to have to fork out an absolute fortune!