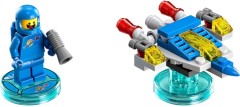 There has been some discussion over the last couple of days about the absence of instruction booklets in the LEGO Dimensions Fun, Team and Level Packs, with the instructions instead being found within the game. This obviously poses a problem if you only want to build the models rather than play the full game.
Luckily LegoHPnut has drawn our attention to the official LEGO Dimensions Twitter feed, where they state that instructions will be available online shortly for everyone to view.
LEGO Dimensions is available now in North America and will be released tomorrow in the majority of other markets.