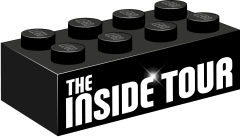 If you have the time and finances to attend the 2016 LEGO Inside Tour, here are the dates to mark on your calendar:
11 to 13 May
25 to 27 May
8 to 10 June
22 to 24 June
Registration opens at 10:00 AM Central European Time on November 9, and will be linked from the Inside Tour page. Be sure to get up early, as last year's Inside Tour filled all of its spots in a matter of minutes.
Wonder if it's worth the money? Read Huw's review of the 2013 tour to find out.