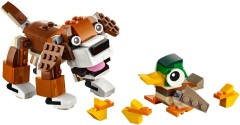 LEGO has added images of a handful of 2016 City, Creator and Technic sets, those that will be available in the USA from 1st December, to the shop.LEGO.com image cache.
To save you hunting, I have added them to the database: follow the links above to view them.
This Creator set, 31044 Park Animals, looks like the best of the bunch to me.
Sponsored content