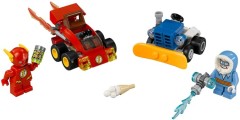 It seems only a short time ago that we were discussing the imminent arrival of the January range but we are now receiving reports of sets being officially released on the 1st of March starting to arrive in stores early.
Thanks to an influx of emails and comments you can view a full breakdown of where you might wish to look for sets from each theme after the break. Of course there will be some variation between stores, but these are the sightings so far...
North America:
Barnes and Noble - Elves
Meijer - Captain America: Civil War, Mighty Micros, Star Wars
Toys R Us - Speed Champions (online here in the US)
Walgreens - Minecraft
Walmart - Elves, NINJAGO, Star Wars
United Kingdom:
Toys R Us - Speed Champions
Poland:
Let us know if you find anything in your area and good luck if you are going in search of some new sets!