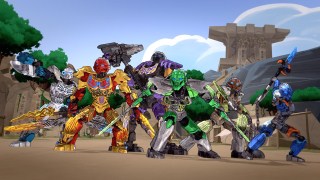 LEGO has finally journeyed (pun intended) into digital streaming services with BIONICLE: The Journey to One, which launched today with its first two episodes: "Quest for Unity" and "Trials of the Toa", preceded by a 12-minute prologue told through the online animations released last year to start the reboot.
It's the first episodic BIONICLE series ever (but as far as film is concerned, there's been four!) and the first Netflix original developed by LEGO; in partnership with production company VOLTA.
It seems like some people are still clouded with nostalgia when comparing the BIONICLE of generation one (2001-10) to generation two (2015-present). But could this entry in the saga change opinions? In other words, is it worth the watch for old AND new fans? Read on to find out...
Storyline
From LEGO: "The new storyline takes place on the mythical island of Okoto, where the forces of darkness are on the move and the evil Makuta is working to cast the world into darkness. The desperate island inhabitants enlist six heroes - called the Toa - to help save their beloved island. Only when the heroes are united, will they be able to battle the forces of evil, defeat Makuta and save Okoto."
Now this is where nostalgia is going to take over people. Of course, BIONICLE generation one's story was magnificent, but overly-complicated. This show, as well as the reboot in general, takes the best parts of what made the original theme so beloved, while also "simplifying" it to fit today's standards for LEGO media-driven themes and actually making it actually understandable for kids.
I really can't complain too much; but then again, maybe there's something lacking that I can't quite put my finger on.
Score: 4.5/5
Animation and Visuals
I am not going to beat around the bush with this opinion: this is the best-looking LEGO animated series of all time. Now, you may argue that Ninjago has done better, but tell me that the at the top of this article doesn't look absolutely gorgeous. This is the most major reason people will want to watch this show, I'd imagine. On the other hand, the animation has a few little errors at times, but everything flows really well which makes it hard to notice without looking too closely.
CGI and 2D blend together perfectly to form a beautiful world and characters that are amazing to look at. It makes me want to explore even more. Even though the characters wear masks, their eyes and body movement convey enough emotion for us to know very well what they are feeling. The characters also match their LEGO set forms well while also looking very organic and alive.
I really can't detract any points. It's all SO superb.
Score: 5/5
Character Development, Voice Acting and Humor
Overall, this is the least impressive part of the show for me. Although the script is pretty smart at times, there is no denying that a lot of the dialogue is cheesy, and this makes sense; it's a show meant for kids, after all. However, this is made up for in some of the jokes, which are hilarious. There are plenty of great visual gags too, mostly involving Umarak's shadow traps.
And speaking of Umarak... his characterization is awesome, and I wish we got more of him. His shadow teleportation abilities are very cool. A important scene with him that concludes the second episode (involving Makuta and the Mask of Control, but I won't spoil it) is particularly fantastic and equally spine-chilling.
Lewa and Pohatu also steal the show, with particularly funny moments of Pohatu not getting along with his elemental creature Ketar, and Lewa talking to himself while searching for his creature, Uxar. Onua and Gali were also good characters, but neither too exciting. And hey, Gali finally has the voice of a woman!
Ekimu has my favorite voice of all of the characters, with Tahu having my least favorite voice. And Kopaka's voice isn't bad, but he has some weird out-of-character moments. Part of the problem with voices in this show is, even though most of them are good, there is this annoying modulation that makes them sound more robotic. I thought the biomechanical nature of the beings in this universe was already obvious, but nope, guess not.
Overall, this category goes pretty well for the show, but not the best, in my opinion. Some improvements could have been made.
Score: 4/5
Verdict
Despite its shortcomings, BIONICLE: The Journey to One is a real treat. For years, BIONICLE fans have been waiting for something for like this to happen, and here it is. I am not disappointed, no matter how much I could nitpick. I'm sure you won't be disappointed, either. If you are a constraction fan or have enjoyed LEGO's programming over the last few years, then I would not hesitate to watch.
One last thing: I do have to criticize the decision to put this show on Netflix. I assume a lot of the target audience doesn't have it, and LEGO hasn't done the best job at advertisement elsewhere, so I'm not sure if most of the target audience even knows that it exists. It seems a bit unfair. So if this is really a show intended mostly for the hardcore fans of the theme, then it gets the job done.
All in all, despite some problems here and there, it's quite a ride.
Final score: 13.5/15, A-
Now, join me later this weekend when I review the new Mixels special Every Knight Has Its Day. And don't forget to check out the next and last two episodes of BIONICLE: The Journey to One, coming in July to Netflix!