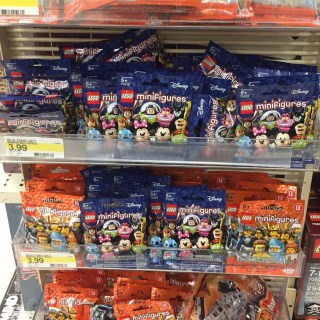 The Disney Series of Collectable Minifigures is now starting to appear at Target stores in the United States; ahead of their official worldwide release on May the 1st.
Some people have even done video reviews of the series already, with a complete set of eighteen in their hands. For example, here's a video review with accompanying photos by just2good, who found them at a Target in Florida.
Read after the break for a handy guide to finding the series early! And stay tuned, because coming soon I shall be reviewing the whole series right here on Brickset!
---
Of course, it can usually be rather difficult to look for new sets before their street date hits. However, Brickseek is a very useful tool for finding out if local stores near you have received shipments of sets.
The DCPI code for the Disney Series is 204-00-1379. Copy this into the text box on the site, enter your zip code and then see the results. After checking, you might want to call ahead to make sure the store really has the minifigs, just in case. Be sure to ask them if the packaging is blue.
When you arrive at Target, you may need to ask staff to take the series out from the storage room if they aren't on the shelves yet. They may or may not sell you the figures early; some stores are lenient with the street date while others are not.
Also be sure to check out this post on Reddit for sightings.
Best of luck on your hunt!