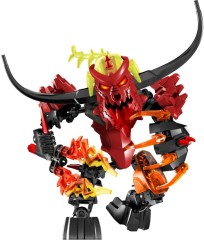 New Zealand based academic and author of the minifig catalogues Christoph Bartneck has just published a paper that examines whether LEGO products are becoming more violent.
Here's the abstract:
Although television, computer games and the Internet play an important role in the lives of children they still also play with physical toys, such as dolls, cars and LEGO bricks. The LEGO company has become the world's largest toy manufacturer. Our study investigates if the LEGO company's products have become more violent over time. First, we analyzed the frequency of weapon bricks in LEGO sets. Their use has significantly increased. Second, we empirically investigated the perceived violence in the LEGO product catalogs from the years 1978-2014. Our results show that the violence of the depicted products has increased significantly over time. The LEGO Company's products are not as innocent as they used to be.
I think we can all agree that yes, they are becoming more violent. This paper proves it using rigorous research techniques and calculations.
The paper concludes:
"The results from both studies, weapons count and perceived violence, showed significant exponential increases of violence over time. LEGO products have become significantly more violent. This increase is not in line with their policy that "LEGO products aim to discourage pretend violence as a primary play incentive. The designs are meant to enrich play with engaging conflict scenarios where aggression might be used for the purpose of overcoming imaginary evil". The violence in LEGO products seems to have gone beyond just enriching game play."
You can read the entire paper on Christoph's site and at Plos one although I don't recommend the latter as all images have been removed.
Kids today are exposed to much higher levels of violence on TV, in films and in video games than when I were a lad so I guess it's only natural that toys have followed suit. Boys in particular almost expect there to be some sort of conflict they can play out with their toys, so LEGO provides it.
It's not necessarily a good thing, but does it actually matter? Does it turn kids into murderous psychopaths, or is it just a bit of harmless fun?