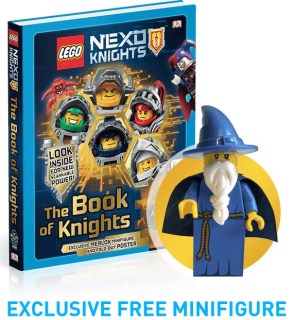 The exclusive minifigure to be included with the upcoming DK book LEGO Nexo Knights: The Book of Knights has been officially revealed to be none other than Merlok the Magician; before his transformation into the golden holographic wizard Merlok 2.0!
This version of the character appeared in the first episode of the television series, entitled "The Book of Monsters - Part 1" (read my review of it from a while back here). I'm thinking classic Castle fans will want this minifig very much as it looks very generic - as in, no tech and an all-fantasy style!
One exclusive minifigure for the year down, one to go. You may have heard that an unknown Nexo Knights minifig polybag, 5004390, will be available from July to September in brand stores. You will be only be able to get it using a coupon from the 2016 calendar given away there late last year. I'm guessing it will contain either Princess Macy, pre-corruption Jestro or Queen Halbert in battle armor.
Anyway, the book with Merlok is set to be released on August 30, 2016. Are you planning on adding it to your collection? I recommend preordering it on Amazon if so!