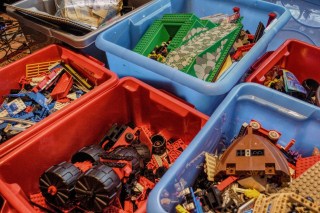 This week's #ThrowbackThursday article has been wriitten by Philip Boyes:
As adult LEGO fans we get used to seeing LEGO online in a pristine state – in reviews of newly released products or in envy-inducing shots of our fellow-builders' carefully-sorted LEGO rooms. But that is not how most kids experience LEGO. We have probably all had big mixed-up boxes of jumbled bricks – a builder's nightmare but the reality of how most children play with LEGO. Over the years those boxes grow, reflecting our changing tastes and gathering random bits of other toys – marbles, game counters, dice and so on. They reflect and shape our childhoods, encoding our formative years in brightly-coloured little bricks.
As I move into my first proper house and finally have a bit of space to gather all my stuff together, I have retrieved my childhood brick boxes from my mum's shed. As I crack them open, smell that familiar slightly-sweet scent of plastic (did old LEGO have a distinctive smell or is it the boxes themselves? I have never worked it out) and begin to sort through them, I thought I would take the opportunity to do a bit of personal archeology on my collection, and the memories bound up in them. It's not special in any way, really, except to me. But I hope that's why it's worth doing. Because as LEGO fans we probably all had boxes like this, and all of them tell somebody's story. These just happen to tell mine.
Inheritance
My first LEGO was inherited from my uncle. If I stretch I can just about bring to mind memories of playing with it at my Grandma's, before it became mine. I must have been extremely young then: four-ish, maybe? I had thought that initial gift of LEGO was just a little bit of Classic Space: some discoloured crater baseplates and landing pads, a few tiny vehicles with very tatty instructions, and either the 928 Galaxy Explorer or the 918 Space Transport – I could not remember which. The first surprise going through these boxes offered was I had both those ships, and a lot more besides. My uncle had clearly had a pretty large collection – Classic Spacemen actually outnumber any of my other space minifig factions, and that's just counting the complete ones. Most were very faded, but on one blue minifigure, under a Shell logo sticker I spied a glint of gold. I carefully peeled back the worn paper and revealed a pristine Classic Space logo, probably covered up since before I was born.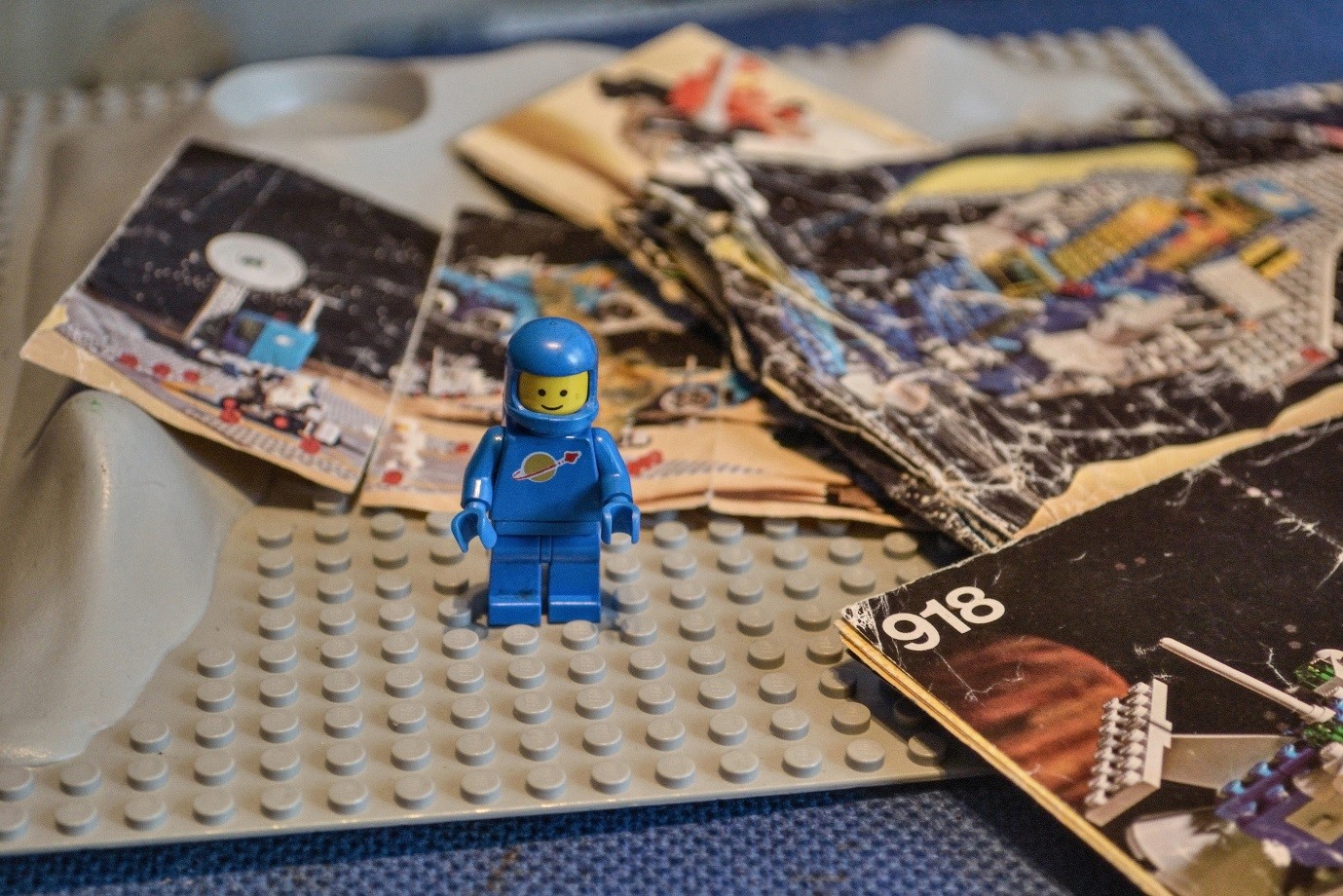 Why did these wonderful old sets get diminished in my memory? Maybe because they looked old even in the late 80s and early 90s. They were yellowed – the baseplates especially – and the instructions always threatened to fall apart in my young hands. When I did build ships and vehicles, they looked blocky and simplistic. Beyond that, I did not quite know what they were: everything else in my collection had been bought after poring over catalogues and posters (also mostly preserved in these boxes, with only minimal cutting-out and ticking of wanted sets). I had no catalogues for the Classic Space. It was undocumented, prehistoric; split off from everything else by a gaping discontinuity.
But if my childhood self did not quite know what he had with Classic Space, the bigger surprise is that it turns out some bits of my early collection were considerably older. I have found some very chewed and perished tyres, a 'waffle-bottom' plate, a 10 x 20 brick with no anti-studs and a 1x8 brick with the extremely worn remains of 'Esso Service' just visible printed on it. These are relics of the 60s, possibly fairly early in that decade. They are too old to be my uncle's, at least originally; he must have inherited them from someone else. My dad perhaps? Someone else? I'd always taken it as an article of faith that Classic Space was the oldest stratum in my collection; learning it's not comes as a bit of a shock.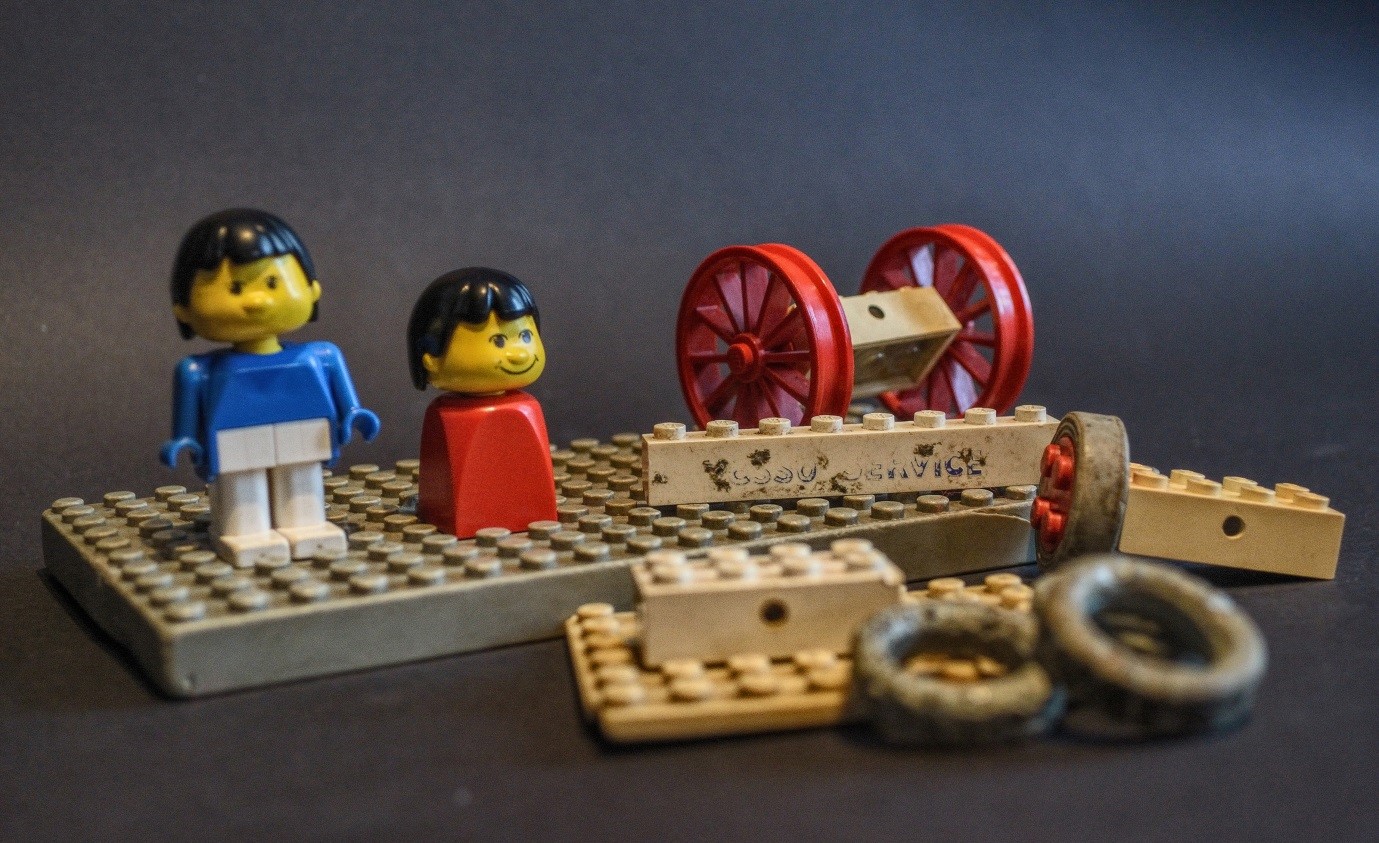 Beginnings of a Collection
So what was the start of my own collection? I can't recall and the boxes offer few clues. The Black Falcon and Crusader sets must be the best contenders. I can just about remember being given 6074 – Black Falcon's Fortress by my mum one Christmas. I was two when it was released so it must have been a few years old by the time I got it. I was castle-mad as a small child. I loved King Arthur and especially adored Robin Hood. There's a certain phase of my childhood when it's hard to find a photo of me where I am not miming a bow and arrow. Just looking at these old sets conjures up memories of holiday trips to any castle within vaguely easy reach, of running through woods dressed in green or wearing a plastic tabard emblazoned with royal heraldry.
From this beginning my Castle collection grew to encompass the Crusaders, the Dragon Knights and the Dragon Masters. Despite my devotion to the cult of Sherwood, I only had one LEGO Robin Hood set – 6066 Camouflaged Outpost – and to be honest I think that was probably my brother's. Possibly there weren't any in the shops round our way.
But I was into LEGO in time for the start of Pirates. We had a lot of the first wave. Sadly, the monkey - disfigured among the rigging when a birthday cake candle-flame caught the rice-paper sails of my brother's pirate-ship - seems not to have made it.
Journey into Space
Alongside knights and castles, it was Space that was the other main love of my childhood; more so as I got older. The boxes reveal a smattering of Futuron and Space Police I, fewer Blacktron I astronauts than I would like and none of their vessels, but it's the sets of the early 90s that predominate. Back then the future was accented with transparent neon green or orange, and those colours run through this collection like a seam of gold. I was in love with M-Tron, Blacktron II and especially Ice Planet. Between us, my brother and I collected almost all of them. My family did not have a lot of money so this was quite an achievement and a testament to my parents' generosity.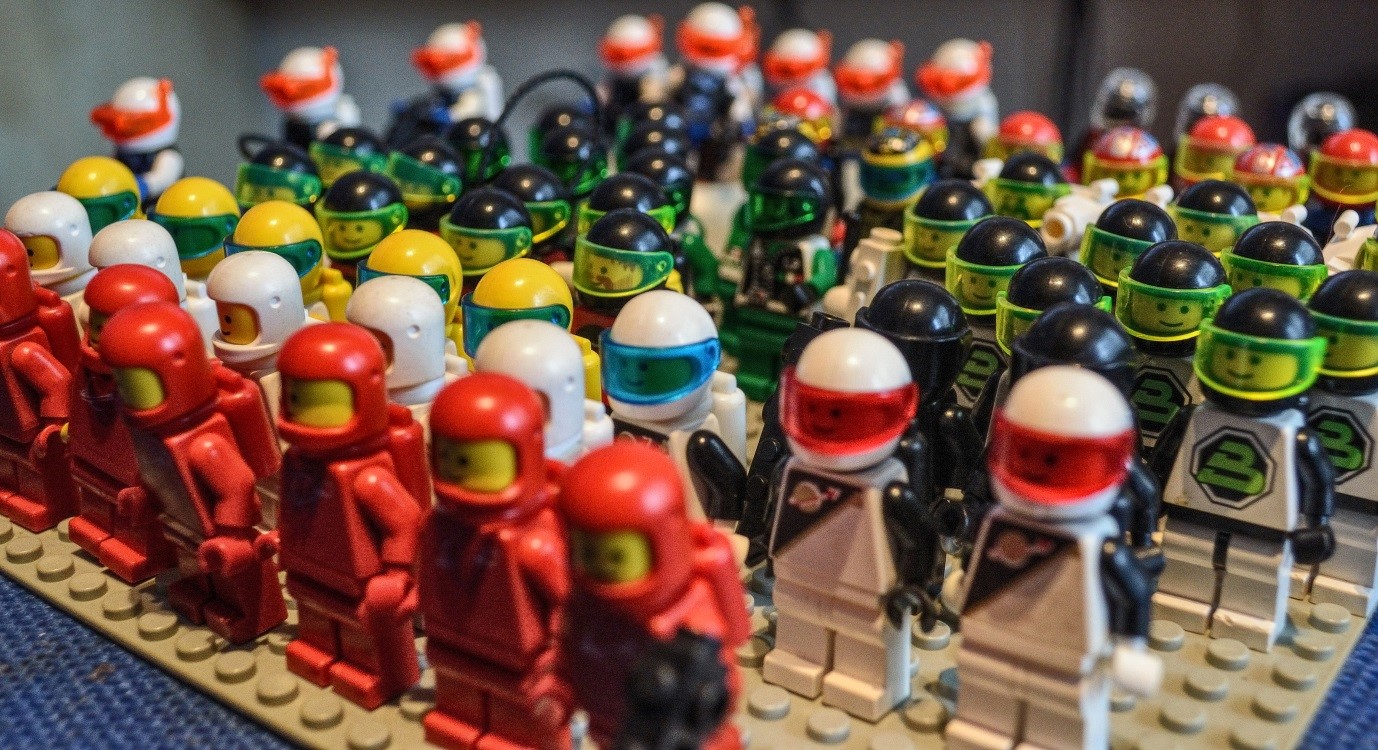 As I went through these boxes, I could not help stopping to build something. I chose the Blacktron 6981 Aerial Intruder, a truly iconic set, to me at least. It's one of the ones I have the clearest memories of receiving, not at Christmas or a birthday, but on a trip to Blackpool. My dad had taken us to visit a Thunderbirds exhibition. When we got there it was cold and raining and the exhibition was closed. My dad bought me the Intruder to cheer me up. I think my brother got the 6933 Spectral Starguider.
I mention this because it symbolises how much Thunderbirds and LEGO Space intertwined themselves in my early childhood. I was obsessed with Gerry Anderson shows when I was about 7 or 8, and LEGO was perfectly suited to recreating those kinds of vehicles – the space sets most of all. I rarely played 'goodies' and 'baddies' – the different factions all worked together, helping each other and rescuing one another when things went wrong. I once built a fairly obscure aircraft carrier from the Stingray comic and sent in a photo. They printed, to my enormous delight. Another time I wrote a series of stories that would now be called Captain Scarlet/Ice Planet crossover fanfic, filling them with lovingly crafted drawings. When I took them on a Cub Scout weekend at Morecombe Pontins, other boys found them and tore them up. It was not easy being a geeky kid in 1990s north-west England.
There's probably no LEGO set more Gerry 'Andersony' than the M-Tron Mega-Core Magnetiser, the huge crawler with its chunky angles and industrial aesthetic. I can still remember unwrapping mine one Christmas or birthday in the front room of my dad's little post-divorce house in Oldham. I think we spent the afternoon playing Super Mario and Duck Hunt on his new NES. You can see from the picture the set's still more or less assembled. Christmases offer less to do as a young adult and a few years ago I took advantage of the time between presents and dinner to rebuild the set, revelling in being 8 years old again.
My favourite theme was Ice Planet, and the extent to which I loved it is told in a sorry tale by the yellowing of parts – all that white suffered badly from years on display. It's going to be a long summer with the hydrogen peroxide, restoring them to their original colour so I can build them all again.
I had lots of other Space sets – almost a full collection of Space Police II and Spyrius – but even as a child I found them a little less compelling. Evidently that did not stop me collecting them, and I remember thinking the Spyrius robots were extremely cool-looking minifigures.
So that's the story I tell myself about my collection: Castle – Pirates – Space. Except the boxes don't quite bear that out. Sure, there's a lot of Space and Castle but what really struck me as I went through these boxes again was how much Town I had. I would find half-built vehicles or old instructions and I would remember them then, but until I had the physical thing in front of me, they had almost disappeared from my memory.
Ends
The remains of a couple of home-built Daleks memorialise a shift in my interests around when I turned ten. I became obsessed with Doctor Who. Its books and videos began to monopolise my pocket money and Christmas and birthday lists. LEGO fell by the wayside, and I began to slip into my dark age.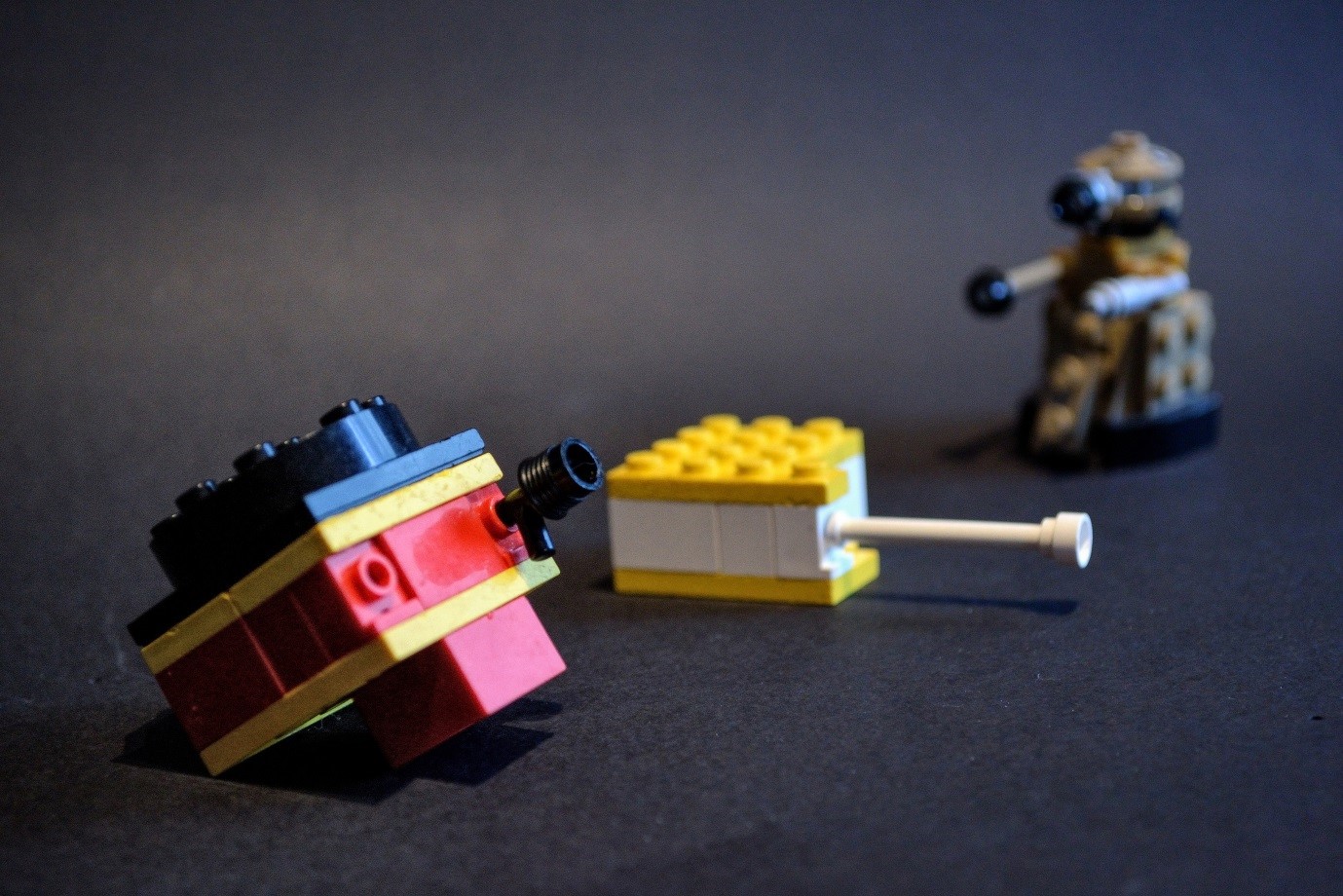 As well as the plastic boxes containing my 'main' collection, I have one more box – the cardboard packaging of the UCS Star Destroyer. This became a graveyard of my very last childhood LEGO, not even dismantled to be used in other models; just tidied away into a Jakku-like spaceship graveyard of big chunks. These were either the last sets I received or the ones that stayed out on display the longest. My beloved 6973 Deep Freeze Defender was in here, discoloured almost to tan, and the wreckage of my last System theme, Aquanauts (that old Stingray influence had not quite let go). And of course, the massive hull plates of the 10030 Imperial Star Destroyer itself. Because even as I slipped into my dark age, I never quite completely stopped getting LEGO. In the excitement around The Phantom Menace, I picked up a few of the early Star Wars sets. My dad, a LEGO fan himself, would occasionally get me other sets as surprise Christmas or birthday presents. The Star Destroyer was one of these, just as I was starting university. I had no idea LEGO could be that huge and had no room for it in my college room. It sat far away in my childhood bedroom, a fitting endpoint to that phase of my life.
I started to come out of my dark age around 2010, while I was at University for the third time, doing my PhD. I was getting the itch to build something big and managed to pick up the UCS Millennium Falcon when it was merely very expensive, rather than requiring an actual mortgage. In 2013 my dad fell ill and the next year he died. That horrible period brought me back to the world of LEGO. It had always been one of the main interests we shared and losing him made me reflect on that. I would see sets and think 'he would have loved that'. Gradually I was sucked back in, and a new collection began to form, separated by hundreds of miles from the old.
I don't want to end on a downbeat note, so I will return to the physical, tangible reality of those childhood LEGO boxes. I have talked about the LEGO they contained, but what about everything else? All that random gubbins that finds its way in among our bricks and tells us as much about the children we were as the LEGO itself? Well here is what I pulled out.
K'Nex, lots of Playmobil, a few Action Man accessories, a bit of Meccano, a tangle of wool snarled up around an Octan fuel cart. Some knight figurines, one of whom was meant to sit atop a horse, but who has come loose, the glue on his bottom turning an unfortunate brown. A switch trailing two wires. A cork. Some cardboard somethings. A bit of hull from the fuselage of an Airfix model plane (never made). A Stingray badge.
That is my childhood, there, in those LEGO boxes. What did yours look like?
Sponsored content