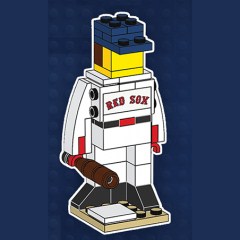 Who wants peanuts and Cracker Jack when you can have LEGO? For the second time in LEGO history, the company has partnered with the Boston Red Sox to give away an exclusive collectible.
Could this be the start of deeper LEGO partnerships with other professional sports leagues?
August 31, 2016, will be LEGO Day at Fenway Park, and the first 2,000 people to buy tickets will receive a Red Sox brick-built ballplayer. Tickets, if any are still available, can be purchased at redsox.com/lego. Tickets will be printed with "LEGO Day," allowing them to be redeemed for the set at the ballpark. LEGO will also have a Master Builder on hand to reveal a life-size Red Sox player model.
This is the second time that LEGO and the Boston Red Sox have partnered for a giveaway. In August 1999, LEGO gave out a Red Sox Minifigure that today sells for more than $75 due to its rarity. Why the Boston Red Sox? The LEGO U.S. headquarters are nearby in Enfield, Connecticut.
This promotion was announced to LEGO VIPs in the Boston area as part of the regular monthly LEGO VIP newsletter. Based on the illustration, it appears that the sticker with the team logo is the only truly unique element, so this could be a gentle testing of the waters for an MLB partnership after the success of the German Football Team Collectable Minifigures.
This could simply be a one shot, as Oyo Sports already holds the license to produce Major League Baseball minifigures and sets, but many LEGO fans will agree that it would be nice to see a new wave of sports-themed bricks and minifigures.