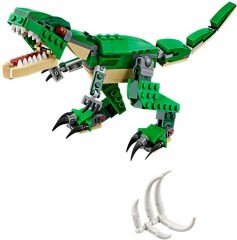 LEGO has uploaded images of some eighteen 2017 sets this morning, in preparation for them being available at shop.LEGO.com at the end of the month, in North America, at least.
Among them are five Creator sets and three Juniors City sets that we had not seen pictures of until now.
I am a big fan of Creator animals, particularly dinosaurs, so I look forward to picking up 31058 Mighty Dinosaurs which, as you can see from the 'more images' tab on its set details page, builds this carnivore, a pterosaur and a Triceratops. The other sets are not doing much for me, though...