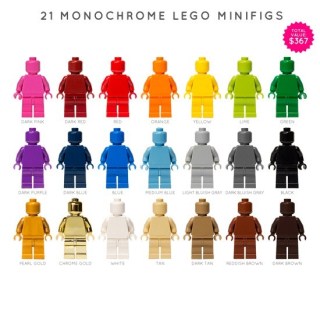 Monofigs are minifigures made from parts of all one colour and collecting them seems to be popular. Some are easy to assemble, others pretty much impossible.
Morten in Denmark is something of an expert on the subject. He has just produced a beautifully illustrated eBook that rates each colour from easy (e.g. black) to hard (e.g. dark green) and explains where to source the parts to make them.
It is clear that tracking down the parts and, in some cases, removing print from torso and heads, is a time-consuming business so to help you start a collection Morten has set up a web shop, Monofigs.com, where you can buy single figures, or even a complete set of 36. And for a limited time, Brickset readers can enjoy free shipping on any set of 10, 21, 27 or 36 monofigs when you use the code BRICKSET at checkout.