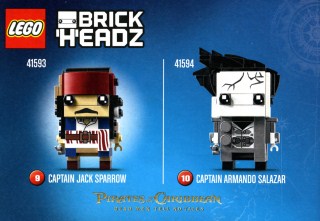 Pirates of the Caribbean!
The ninth and tenth in the first series of Brickheadz are 41593 Captain Jack Sparrow and 41594 Captain Armando Salazar.
LEGO has not announced them yet, and they are not for sale today with the other ten BrickHeadz, but given they are shown on the back of the box and in the instructions of the Beauty and the Beast pair which are now available in brand stores and shop.LEGO.com, there's no longer a reason for us not to reveal them.
So, see a large picture after the break and let us know what you think in the comments.
The others can be ordered from shop.LEGO.com for $9.99/€9.99/£9.99:
USA | Canada | UK | Germany | France