Sponsored content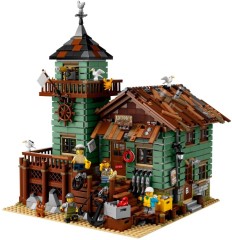 Several European LEGO stores will be hosting signing events with the fan designer of the brilliant 21310 Old Fishing Store, Robert Bontenbal, over the next few days. These begin tomorrow at Leicester Square and additional events will be taking place in Paris, Berlin and Copenhagen during the rest of this week.
August 24, 1-4pm, LEGO Store Leicester Square
August 25, 1-4pm, LEGO Store Paris Forum les Halles
August 26, 10am-1pm, LEGO Store Berlin
August 27, 12-3pm, LEGO Store Copenhagen
I will be at Leicester Square on behalf of Brickset tomorrow so do come and say hello if you spot me. It's always fun to meet Brickset members in person!
Let us know if you will be attending any of these events in the comments.