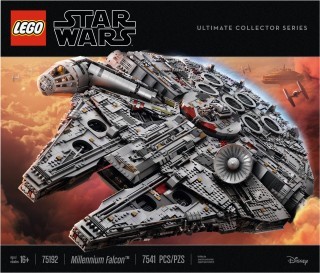 Here's official information about tonight's event:
LEGO Store Midnight Opening Event to Celebrate Arrival of LEGO Star Wars UCS Millennium Falcon
The LEGO Store in Leicester Square is opening at 23.59 on 13th September 2017 to celebrate the arrival of the biggest ever LEGO set – the LEGO Star Wars Ultimate Collector Series Millennium Falcon.
Become one of the first owners* of the brand new 75192 Millennium Falcon LEGO Star Wars Ultimate Collector Series Millennium Falcon

Fans will receive an exclusive VIP** card with their purchase

Get your LEGO Star Wars set signed by a real LEGO designer

Everyone who comes to the store will win a prize via a scratch card raffle

Store will be open between 23.59 on 13thSeptember and 01.00 on 14th September

Fans are welcome to dress up, although it's not compulsory!
--
I won't be at the midnight opening but will be at the nearby press event beforehand. If you're going and expect to be in Leicester Square around 10:30pm drop me a line and perhaps we can meet up. I guess by then there could be a bit of a queue building!
We'll be posting updates throughout the evening on Twitter (@brickset) and Facebook so stay tuned for all the latest news and goss.
Important points to note:
* 75192 LEGO Star Wars Millennium Falcon is available to LEGO VIP members only for the period 14th – 30th of September. You may sign up to the programme prior or during the event, sign up to programme is free of charge. Offer is valid whilst stock lasts
** LEGO VIP – is official LEGO loyalty programme: https://shop.lego.com/en-GB/VIP .
Sponsored content