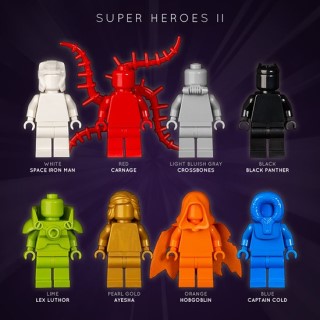 Monofigs.com has just released some very popular monofigs theme sets with characters from Star Wars, Super Heroes, Harry Potter, Ninjago and The Lord of the Rings. At the moment 15 theme sets are available, and more sets are being released every month.
The hugely popular Star Wars themed sets include Essentials II and III each with 8 important characters (the first Essentials set was a limited edition which sold out in just 6 days), Protocol Droids, Original Trilogy and Bounty Hunters.
The latest addition to the Star Wars line-up is Star Wars Legends, which include 8 of the absolutely most legendary characters from the whole Star Wars saga: Darth Vader, Luke Skywalker, Princess Leia, Han Solo, Chewbacca, C-3PO, Obi-Wan Kenobi and a Stormtrooper. And one of the next sets to be released is the crew from the new UCS Millennium Falcon - all as monofigs.
Just as popular as the Star Wars sets are the Super Heroes sets. Super Heroes I and II each contain 8 important super heroes like Iron Man, Wonder Woman, Loki, Thor, Wolverine, Green Arrow, Aquaman and Black Panther, as well as a few super villains like Carnage, Lex Luthor, Crossbones and Hobgoblin. Batman Universe I and II each contain 8 characters from the Batman universe, and Batman Collection includes Batman in 7 different colors.
Other themed sets include Humanimals, Ninjago Ninjas, Harry Potter Saga and The Lord of the Rings.
After countless requests, the informative Monofigs Guide ebook has been made into a printed book. It's a comprehensive guide with 98 pages packed with useful facts about monofigs with great pictures of each of the completable colors as well as some of the minifigures that have contributed some of their parts to the monofigs. Subjects include wiping, completion timeline, assembly time span, most used colors, future colors, where to buy as well as a price guide. A must-have companion for any monofigs collector.
If you like monofigs, you will also love the two colorful posters: one with 36 plain monofigs and one with 25 Star Wars monofigs.
Use the code BRICKSET10 at checkout for a 10% discount on any purchase at www.monofigs.com.
Sponsored content