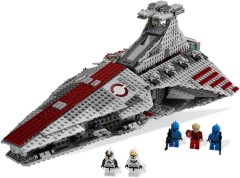 8039 is now listed on LEGOShop.com, priced at £97.85 in the UK and €139 in most Euro-zone countries, and is available now.
This is sure to be a popular set: it's been in Brickset's popular searches list since day one of the new site launch and is in the top ten of the most wanted set list, so order 8039 Venator-class Republic Attack Cruiser from LEGOshop.com now!
It's still marked as unavailable in the US and Canada.
LEGO's products launched in 2009
list now lists all summer releases, even the Star Wars ones, although these, and the Space Police 3 sets are marked as not available and the SW sets (other than 8039) have no images.
Thanks to Steven M for the tip-off!.
EDIT - It looks like the 3 new Castle & 2 of the new Space Police sets are now priced & available to order across most of Europe & Australia/New Zealand. Oddly, Space Police is still not listed for Germany or Austria.