Sponsored content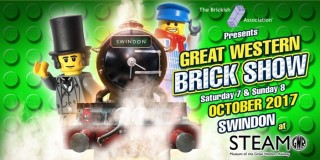 It's been remiss of me not to mention one of the biggest and best UK events of the year, that takes place this weekend, particularly as I'll be exhibiting and have been keeping the website and Facebook page fresh in the run-up to it.
Anyway, better late than never.... the Great Western Brick Show is taking place at the STEAM Museum in Swindon and it's open from 10am to 5pm Saturday and Sunday. There'll be some awesome displays there as well as plenty of vendors, including a pop-up brand store, selling everything from individual minifigs to the latest must-have sets.
I'll be making sure the balls don't go everywhere on my Great Ball Contraption most of the weekend, so if you're coming along do come and say hello.