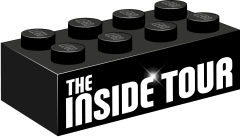 Registration for next year's Inside Tours started an hour ago and ends on Friday at 10am CET.
I don't believe it's a 'first come first served' arrangement any more but I'd advise getting your application in as soon as you can.
Five tours are being run, one in May, two in June and two in September. Full details are at LEGO.com and here's a link to the registration form.
If you don't know what an Inside Tour is, read a review of a 2015 one.
Sponsored content