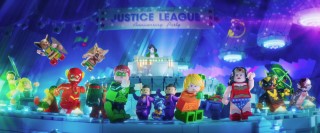 A second series of Collectable Minifigures based upon The LEGO Batman Movie will be released in January and an image of the minifigure checklist has been published on Reddit.
We are erring on the side of caution at the moment so will not be posting the checklist here on Brickset. However, you will find a list of the twenty minifigures included in the upcoming series after the break...
Friends Are Family Harley Quinn
Friends Are Family Alfred
Clock King
Professor Hugo Strange
Mermaid Batman
Swimming Pool Batman
Tropical Joker
Vacation Robin
Vacation Batgirl
Vacation Alfred
Soccer Mom Batgirl
Killer Moth
Wonder Twin (Jayna)
Wonder Twin (Zan)
Apache Chief
Jor-El
General Zod
Doctor Phosphorus
Black Canary
Black Vulcan
Which figures most appeal to you and are there any other characters from the movie you wish to see in minifigure form? Let us know in the comments.
Sponsored content