It's that time of year again when we publish a series of holiday gift guides to help you find the perfect present over the Black Friday/Cyber Monday weekend.
We have chosen price points to suit all your gift-giving needs and today we kick off with sets under $25 (£20), which make ideal stocking fillers or gifts for nieces and nephews.
Read on to find out what Brickset's contributors have picked from 187 retail sets released this year in that price bracket.
---
CapnRex101
75183 Darth Vader Transformation (£19.99, $24.99, 29.99€)

Darth Vader Transformation
75183
The Star Wars range has featured some excellent small sets in this fortieth anniversary year. 75167 Bounty Hunter Speeder Bike Battle Pack and 75182 Republic Fighter Tank are both highly recommended but better still is 75183 Darth Vader Transformation from my point of view.
This set includes an exceptional selection of minifigures and the transformation functions are a lot of fun to play with. Furthermore, the retail price of £19.99, $24.99 or 29.99€ seems very reasonable so I think this is a perfect small gift for a Star Wars fan!
70607 NINJAGO City Chase and 70629 Piranha Chase are also worthy of consideration as they offer tremendous value for money at £14.99, $19.99 or 19.99€ each.
You can read our review here.
---
iso3200
60150 Pizza Van (£14.99, $19.99, 19.99€)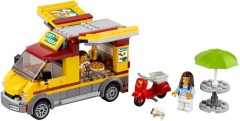 Pizza Van
60150
As this is the filler category I juggled several worthy contenders, finally settling on the 60150 Pizza Van. It's a welcome change from the relentless year on year City Police and Fire remakes and it fits into any layout perfectly.
The colour scheme really makes it stand out and I love the inclusion of the red scooter and printed pizza quarter. I'm not a big collector of City but this one hits the sweet spot and it has great playability too.
I know it's about a year old already, yet it still stands out because of it's uniqueness. With age comes discount too – it's easily picked up for less than RRP so great for a stocking stuffer.
You can read our review here.
---
TheBrickPal
21312 Women of NASA ($24.99, £19.99, 24.99€)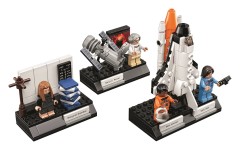 Women of NASA
21312
There are many fantastic sets to choose from in this range, but the one that is easiest to pick, for certain, is 21312 Women of NASA. Not only do you get some great parts, but these parts combine to create great minifigs of famous female scientists, as well as impressive vignettes. Boys and girls alike will appreciate the set's significance. It's also a perfect way to get your friend or significant-other into LEGO if they study the field (or even if they don't!).
The only con I can think of for the set is that it's pretty hard to find, so act fast! You can read our review here.
As an alternative, other collectors may enjoy finding a BrickHeadz in their stocking. They're cheap, easy-to-build and (even though they don't do much other than sit on a shelf) look great. Some of my favorites include 41590 Iron Man, 41595 Belle and 41487 Lloyd.
---
MeganL
41319 Snow Resort Hot Chocolate Van ($24.99, £19.99, 24.99€)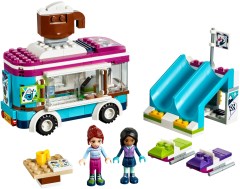 Snow Resort Hot Chocolate Van
41319
With so many selections for this price point, it's difficult to select just one. Because I'm an engineer, I have to acknowledge 21312 Women of NASA Also, in the Creator line 31062 Robo Explorer is also a fine choice (and don't forget the Creative boxes that are available for just $4.99. They're terrific!).
However for the Friends-loving person on your list, I recommend 41319 Snow Resort Hot Chocolate Van (review forthcoming).
The van has a number of moving function and a great level of detail. The set also includes a toboggan run with two toboggans, one each for the two minidolls included with the set (having two minidolls for a set this size is unusual). It offers a great amount of play for the price point and is fun to build, too.
---
DrDaveWatford
31062 Robo Explorer ($19.99, £17.99, 17.99€ )
Robo Explorer
31062
This modestly-priced Creator 3-in-1 set features a great-looking primary model, and when you're done with the Robo Explorer there are also a couple of worthy secondary builds to keep you occupied.
I'm a fan of the relatively unusual medium azure colour scheme, and the inclusion of a light brick is the icing on the cake. An appealing set, and definitely my pick at this price point.
---
Huw
31058 Mighty Dinosaurs ($14.99, £12.99, 14.99€)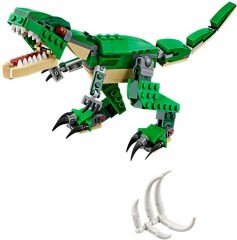 Mighty Dinosaurs
31058
Every kid likes dinosaurs, right? This year's Creator animal set, 31058 Mighty Dinosaurs, makes four of them, all of which, as you can see in our review, are awesome!
Not only that, there are no minifigures or licensing fees to bump up the price so it's excellent value for money, too.
---
FlagsNZ
31058 Mighty Dinosaurs ($14.99, £12.99, 14.99€)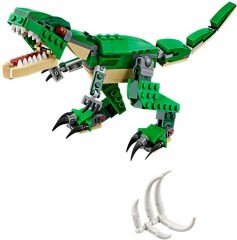 Mighty Dinosaurs
31058
I always like sets released under the Creator theme banner. They typically have 3-in-1 builds as part of their appeal.
The Creator sets use clever building techniques to create a surprising level of detailing without relying in stickers.
At the beginning of the year I participated in the LEGO Ideas Test Lab and this set was one of four Creator sets that were used as the basis of the Fourth Build Challenge. At the end of the competition, eight of the ten finalists for the Fourth Build Challenge were based on the 31058 Mighty Dinosaurs set and all of the winners were designed using the parts from this Mighty Dinosaurs set, which goes to show its versatility.
---
Do you have any recommendations? Sets you have bought that you think would make good gifts for others?
Sponsored content